Street Cred is a peer feedback system for gamers.
Commend great performance and great behavior!
Reprimand undesired behavior.
Build YOUR gamer credibility.
Fight toxicity in gaming.
A Companion App Overlay
Street Cred has been completely re-designed to be an Overwolf app which runs an as overlay, providing you with a near in-game expereince.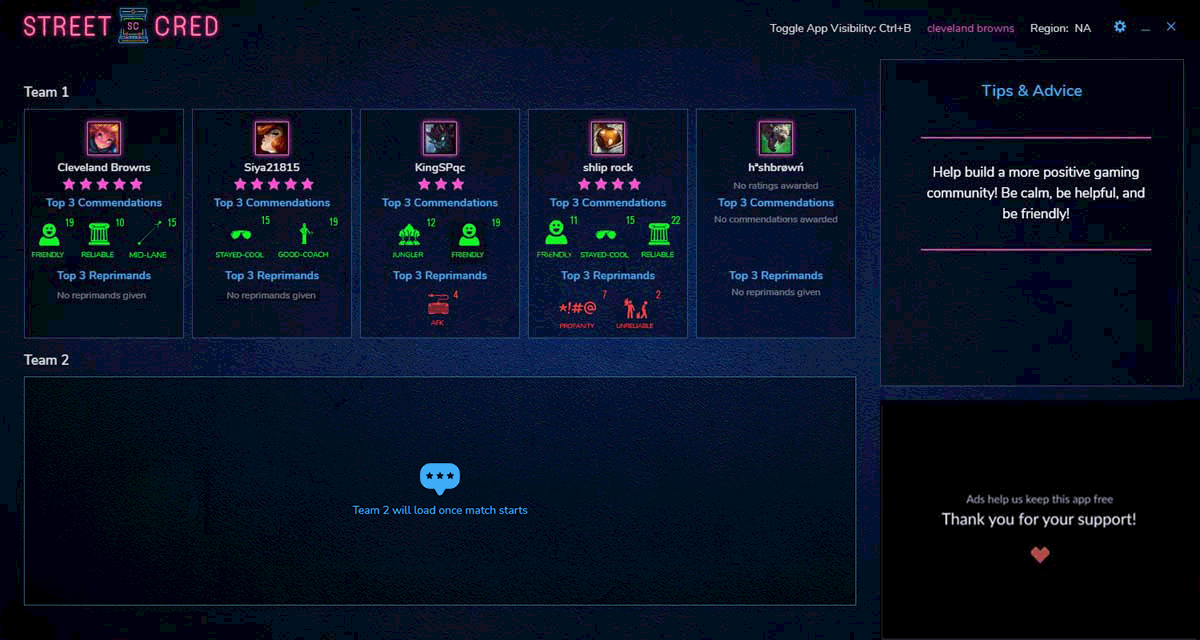 Real Time Gamer Credibility Insight
Get information on your team and the enemy team during character selection to find out who is friendly or who is a troll. Mute the toxic players before the game starts. Check out your teammates' commendations to leverage their skills in a particular role.
Games Supported On
STREET CRED
How Does 
STREET CRED

 Help You?

Rate & Review the Gamer
Street Cred lets you rate a gamer's gameplay. Award commendations for their performance and their online behavior. Are they good leaders or great at DPS? Were they friendly or toxic? Helpful or abusive? AFK or griefing? You get the idea.

Help the Gaming Community
Street Cred helps the gaming community by not only highlighting great players, but also by exposing undesirable behaviors. Rate gamers beyond their performance and help build a stronger and more positive gaming community.

Make New Friends
Search for gamers by specific commendations and invite them to join your in-game friends list. Looking for a coach? Search for gamers awarded the 'Great Coach' commendation. Need more friendly players? Search for "Friendly" and have fun!
Leave Rating and Reviews on Gamers
Leave feedback with an overall star-rating. Select up to three genre specific commendations or reprimands on the gamer's performance & gaming personality.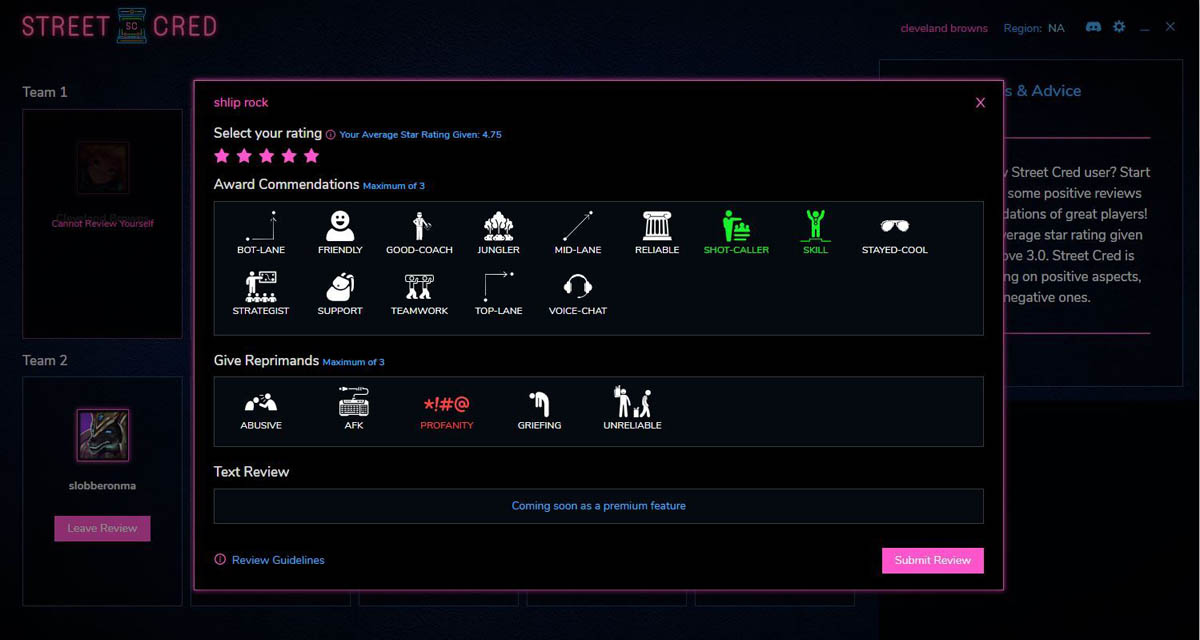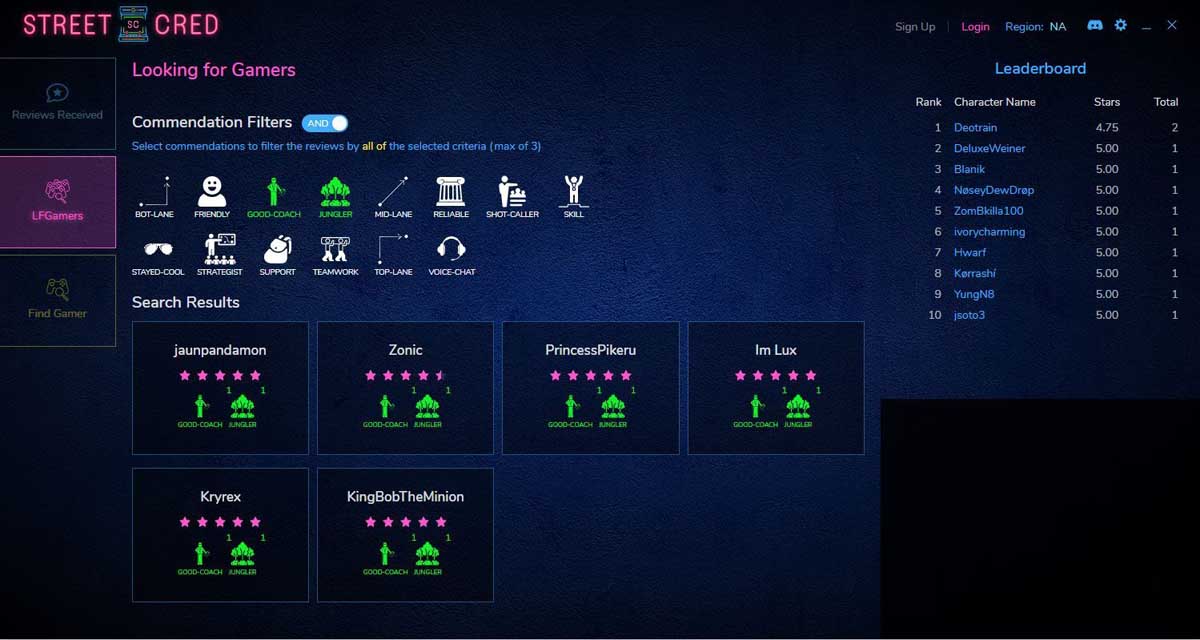 Leaderboards & Commendation Filter
Use the Street Cred leaderboards to see the best star-rated gamers. Looking for players with specific commendations? Use our filtering system to find the types of gamers you're looking for to build a better team!
Reviews Received
See what kind of feedback the community has for you by checking out your reviews regularly. Peer feedback is an excellent tool that can be used for self-improvement.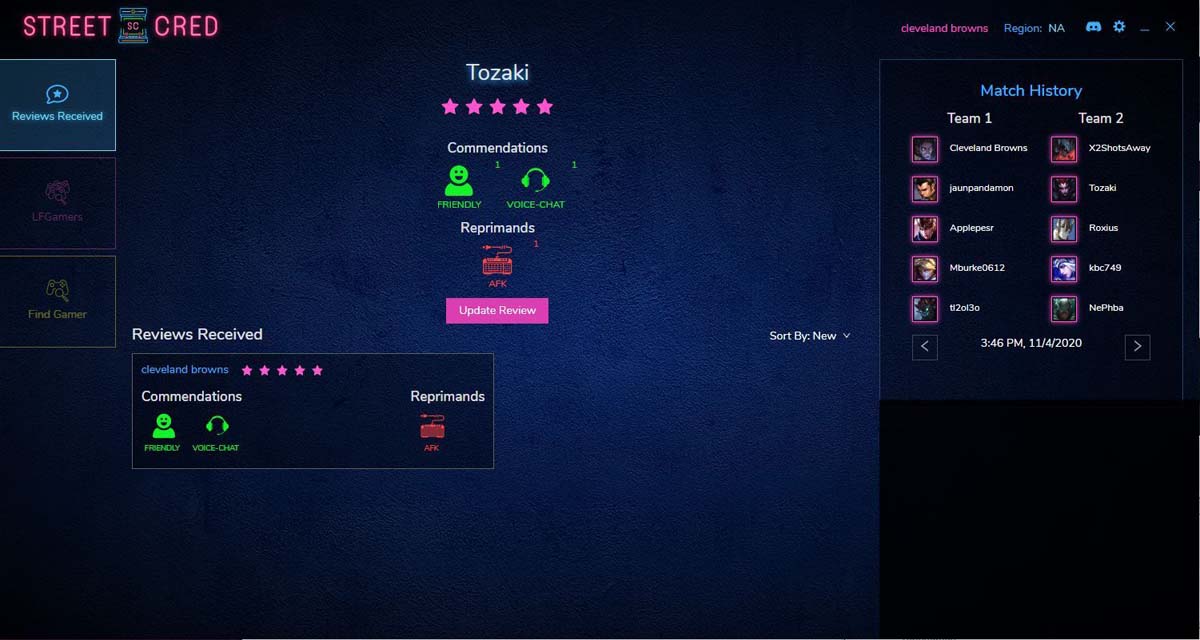 What is Your  
STREET CRED

ibillity?

Free
Using Street Cred to create and read reviews of gamers will always be free. Sure, we'll eventually build some cool premium features that you can opt-in to, but we haven't built them yet.

Built by Gamers for Gamers
We're gamers ourselves, and we know the gaming community can feel toxic at times. That's why we're building Street Cred: to help make the gaming world a better place.

Multi-Game
We're working to make Street Cred a multi-game platform so that you have a centralized and unified view of all of your online gaming personas. We want to be a one-stop-show for your Gamer Credibility.

Looking for Groups
Street Cred is a platform that can help anyone connect with great personalities & attitudes to enjoy gaming.
ROADMAP - WHAT'S COMING NEXT
Adding more details about LoL Summoners on the website (search, all reviews, etc)

Marketing: Working to build a critical mass userbase so that the app is useful to the community

Focus on building LoL community and quality control

Connecting Gamers - join a Looking for Group/Team/Player (LFG/LFT/LFP) queue filtered by ratings and commendations

Overwolf App: World of Warcraft

Mobile Compatibility - the Street Cred website is mobile friendly, but having an App is better :)

Your Requests - by popular demand... we will build what you want!